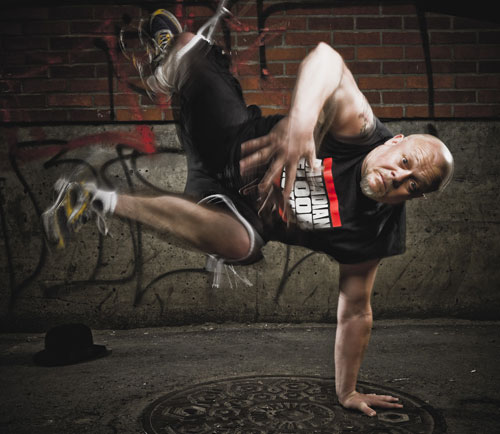 I stumble upon Blueprint for Life back in 2008 after watching an unreleased version of Planet B-Boy, the monumental documentary on the international world of B-boying. If you watch the film to the very end (during the credits) you will see a stocky bald white dude talking about doing Break Dance Therapy with isolated indigenous youth in Canada's artic. I am proud to say that man, is my comrade and colleague. His name is Stephen Leafloor, but he goes by Buddha. He is a social worker, old school b-boy and one of Canada's greatest assets.
Simply looking at Buddha, you wouldn't know that he is one of the longest-practicing B-boys in Canada and founded Canada's first break dance crew, the "Canadian Floor Masters". But don't get it twisted. He is fierce. At 50+ years, he's still got moves that would impress the best B-boys/B-girls. 
What I appreciate most about Buddha is how he has integrated his experience as a B-boy with being a social worker. He founded Blueprint for Life to provide dynamic, culturally appropriate programs for First Nations and Inuit youth centered on Hip Hop rooted in traditional culture. Through his unique model for community development, alternative education and healing, Buddha has successfully partner with indigenous communities to bring new opportunities for their youth, families and elders.  To date, through Blueprint for Life, Buddha has worked with over 3600 youth in a variety of projects in 45 communities. His work has been featured in over 4 documentaries and film projects like the one below.
In 2009, Buddha and I joined to organize the first ever (multi-element) Hip Hop Therapy presentation for a national conference in Washington D.C. (Photo Below: from left to right; Dr. Damon Silas, Abdallah Ezekiel Rothman, Tomas Alvarez III, Buddha Leafloor at 2009 National Teach-In for Remixing the Art of Social Change: a Hip-Hop Approach)
 The presentation entitled, "Be Healthy: Connecting the Mental, Emotional and Physical Wellbeing of Youth" presented on the application of Rap Therapy, Breakdance Therapy and Graffiti Therapy as tools for engagement, promoting health and psychosocial development among teens. 
You can learn more about Buddha and his work with Blueprint for Life by visiting his website. You can also read more about his work, along with my work using Rap Therapy in Oakland, California, in this upcoming book, Therapeutic Uses of Rap and Hip-Hop.